SniperSpy Remote Keylogger Computer Monitoring Software
SniperSpy is remote monitoring software which allows you to secretly see what your child or employee is doing on your distant PC.
SniperSpy is remote monitoring software which allows you to secretly see what your child or employee is doing on your distant PC. Are you worried about what they are doing on Facebook or Twitter? With whom are they communicating?
After installation the software records all activities. Watch the remote screen LIVE from anywhere! View screenshots and text logs of activities like chats, websites visited, keystrokes and more. View activity inside a secure online account.
No physical access to your remote PC is needed to install the monitoring software. Once installed you can view the screen LIVE and browse the file system from anywhere anytime. You can also view chats, websites, keystrokes in any language and more, with screenshots.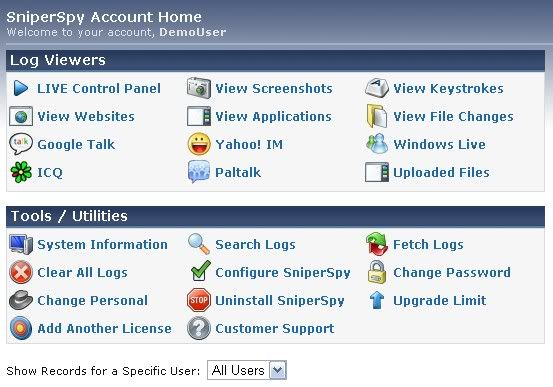 This software remotely installs to your computer through email. Unlike the other remote monitoring titles on the market, SniperSpy is fully and completely compatible with any firewall including Windows XP, Windows Vista and add-on firewalls.
The program then records user activities and sends the data to your online account. You login to your account SECURELY to view logs using your own password-protected login. You can access the LIVE control panel within your secure online account.
SniperSpy goes above and beyond traditional monitoring by giving you certain admin and control tools that our own customers have asked for. After you have deployed your module you can connect to our one-of-a-kind LIVE control panel. Inside this control panel you can issue commands to be sent to your remote PC.
After you issue a command it is sent to your remote PC within 30 seconds. You will see the status of the request within 30 seconds. Noother remote monitoring software on the Internet offers these real time monitoring and control features. Say goodbye to the lies.
SniperSpy Features
Activity Logging
After the module is executed on your remote machine, the software will silently install itself. It will then begin recording a wide range of Internet and PC activities. These activities are uploaded to your private control panel. You can login anytime from any location to view results without needing to visit to the unreachable PC. The activities recorded are each described below. All activities include a date/time stamp.
Unlike any other remote monitoring software, SniperSpy's control panel uses a https connection for secure viewing. It also gives you the power to view graphical representations of data captured and a jpg picture of the screen however often you wish. The screenshot is shrunk to fit your screen, or you can zoom in at full size to read the text. Store up to 100 of these screenshots inside your account. More storage options are available for a small fee.
Live Surveillance and Control Features
SniperSpy stands above the rest by offering an intuitive LIVE Control Panel. Unlike anything ever seen before, this innovation allows you to securely perform LIVE surveillance and control on your remote PC from anywhere. You can view the remote screen like a television and perform other commands instantly. These commands use our server as an intermediary. You send the command to our server which instantly relays it to your remote computer.
What does this mean for you? This means you do not need to directly connect to the remote computer to perform commands or view the screen. It also means the commands will work on any PC with SniperSpy installed. After your module is deployed you can connect to the LIVE Control Panel to perform over a dozen of these LIVE commands. Just some of best commands are outlined below.
Other Features
But what makes SniperSpy stand out from the rest? The main answer is the ability to view logs in real time from any web browser. You can use any computer web browser or even your smartphone's web browser.. Another thing that sets us apart is the live screen viewer. This revolutionary technology allows you to silently watch the remote computer's screen in real time! No other title makes this possible. Our remote monitoring software also gives you the ability to record screenshots however often you wish and perform live commands.
Additionally, SniperSpy completely bypasses any standalone firewall. A firewall alerts the user when an unexpected upload occurs. Many competing titles are detected instantly upon installation due to the firewall alert in Windows 7 or Vista. But SniperSpy uses very advanced methods so that firewalls do not notice the upload. SniperSpy is remotely deployable to Windows 7, Vista and XP.
SniperSpy also includes many other useful features that are right on target. This covert software can be installed, reconfigured AND uninstalled remotely. It also displays remote system information, which allows you to keep an eye on your remote machine's health.
What's Included
While there are countless other programs on the market, SniperSpy software stands above the rest in terms of reliability and effectiveness. When you order you can rest assured knowing you are receiving a top-of-the-line software product and support.
Instant Download – Download INSTANTLY after ordering! (CD-ROM Optional)
Step-by-Step Instructions – Detailed instructions to guide you every step of the way.
Customized Username – You will create your own username and password!
Lifetime Tech Support – Should you need help we will provide free online support.
Free Minor Updates – You will receive free updates to the software as they occur.
The Truth – You will finally learn the TRUTH about they do on your remote PC!
Expose the Truth Today With SniperSpy!!!
Testimonials
"This software lead to a termination of an employee. We need to make sure the Screenshots and other web logs are preserved. How do I archive the information on the log server? I need to make sure I get copies of the info in case we need it in the future."
T. Cook, a USA User
"Thanks to your product I have now peace of mind whenever I travel, wherever I go. My kids are always a phone call or e-mail away after I supervise their behavior on the WWW. It's been a very helpful tool to keep these young guys on the right track. Keep up the good work. Regards, Frisco"
Frisco, a San Diego, CA User
"I checked out all monitoring software and surely this is the best program out there. This is great software at a very reasonable price, more people should know about it and I will definitely refer any interested friends to your site as well."
Belgium User – Name omitted by request
"I must say you guys have the best customer service I have ever dealt with. I have bought and downloaded literally thousands of dollars in different types of software, and over the past 8 years I have never had the customer service respond as quickly and be as helpful as you guys at Sniper Spy have been to me. Thank you and I will recommend you guys to every person I know. All my friends are excited about the software. You guys have been the greatest."
Stephanie, a USA user
"I have been using Sniperspy very successfully to monitor my desktop computer which my son uses. It's a great product!"
Bob, a USA user
"Sniper Spy gave me the confirmation I needed to get the proof."
USA User – Name omitted by request
Best Computer Remote Monitoring Software, Best Sellers, Child Safety, Computer Remote Monitoring, Surveillance, Teen Protection computer monitor software computer monitoring computer monitoring software computer software monitoring computer spy tool monitor your computer pc monitoring pc monitoring software remote computer monitoring remote monitor computer remote monitoring remote monitoring software remote monitoring tool
Related Products